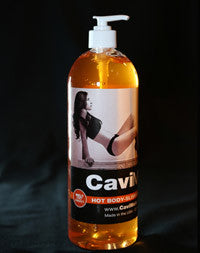 Cavi Melt™ Hot Chili Slimming & Cellulite Gel 32oz.
Regular price $69.00 Sale
Cavi Melt can be used alone through general massage of the target fatty and cellulite problem areas. Cavi Melt Hot Body Slimming Gel is effective when used on fatty areas and cellulite. Cavi Melt is designed to address fat in problem areas such as the tummy, flank, thighs and arms. Cavi Melt penetrates the epidermis, causing a heating effect. Massaging target areas stimulates blood circulation, helping to dissolve the fat in the applied areas, which assists the body in removing it through its normal process. 
Most customers find it helpful to apply a small amount of gel to the fatty area (using a glove), avoiding getting it on any other part of the body except the target area. Once applied, plastic wrap can be used to trap the heat in for up to two hours.  The area will get very hot. This is normal.  Try it once. We know you'll love it!
Shipping is $6.00 per 32oz. bottle anywhere in the Continental US.